ABOUT THE BRIDGE WORLD
The game's leading journal since 1929
The Bridge World was founded in 1929 by Ely Culbertson, in the early days of contract bridge. For over ninety years, the magazine has been considered to be the world's authority on the game of bridge. Every important bridge analyst in the history of the game has contributed, and virtually every new advance, development, and system in the history of the game has first appeared in its pages.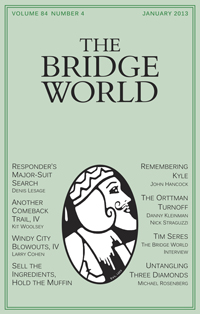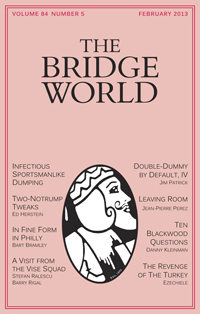 The Bridge World is published monthly (12 issues per year). Each issue is filled with articles, stories, tips, quizzes, examples, tournament reports, and more, all designed to help bridge players improve their understanding and appreciation of the game—from bidding, defense, and declarer play, to the latest cutting-edge methods and systems, and discussion of hot topics in the world of bridge. Every issue includes features where readers can interact, participate or compete.
The Bridge World is an invaluable resource for players of all skill levels—from intermediate to expert—looking to improve their game.

OUR GOALS:
• To help you to become a better bridge player, and a better partner.
• To prepare you to succeed at the table and win more.
• To increase your understanding, appreciation and enjoyment of the game.
• To entertain you and to challenge you.

OUR APPROACH:
The Bridge World is dedicated to helping you understand the game more thoroughly, and become a smarter player. Our focus is on teaching using common sense and useful thought patterns, as opposed to memorization and complex rules. We strive to improve your game by improving your "bridge thinking" and not through rote learning.
THE BRIDGE WORLD EDITORIAL STAFF:
Jeff Rubens, Phillip Alder, Kit Woolsey, Michael Becker, David Berkowitz, Augie Boehm, Bart Bramley, Larry Cohen, Mark Feldman, Fred Gitelman, Eddie Kantar, Danny Kleinman, Ron Klinger, Eric Kokish, Beverly Kraft and Bobby Wolff.
ABOUT TBW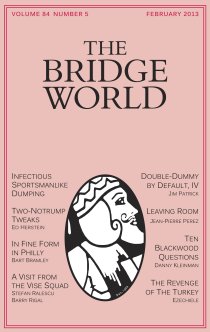 For more information about The Bridge World, including an Article Sampler and Reader Testimonials, please click here.